September 10
Hello from somewhere in China
We arrived in Beijing safe and sound. 13 hours, just like they said. Major smog, just like they said. Lots of traffic, just like they said. Lots of people, trees, stores, bicyclists and crazy motorists.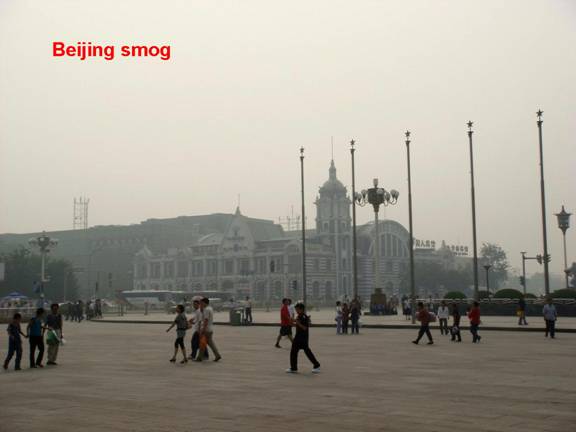 Now, we arrived at 1 PM in the afternoon, which would be 1AM NY time. Lulu the Overscheduler had already set up a dinner date with Gogan, an associate of Tiger Lee--our son Bobby's Taiwanese industrialist patient-patron-fairy godfather.

So at 6PM,  Gogan arrives at our hotel in his spiffy Audi van. He gathers us up and drives us an hour and a half through Beijing rush-hour traffic., We arrive at Bai Jia Da Yuan, a fabulous restaurant-garden-courtyard complex, the grounds and restored palace of some imperial prince or princess during the last (or next-to-last, maybe) dynasty.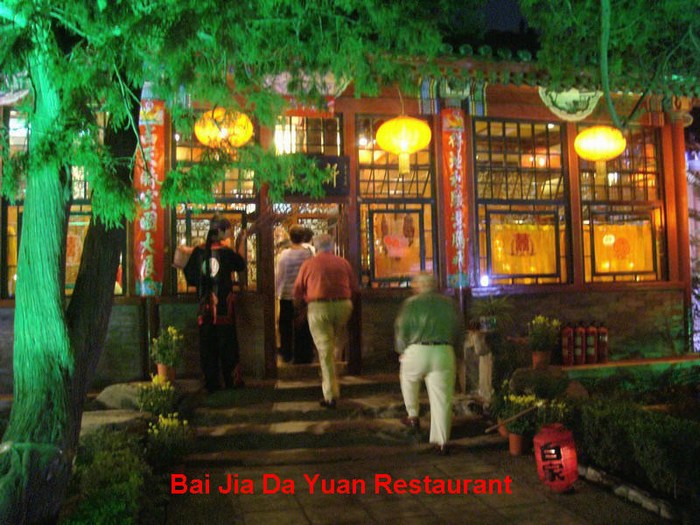 We enter a private dining room with a constantly changing staff of lovely young ladies, all in traditional dress. There must be a hundred of them. Gogan ordered sensational food for us, maybe 10 dishes, all served by these costumed young women. Then insisted on paying for us.<![if !supportLineBreakNewLine]>
<![endif]>

<![if !vml]>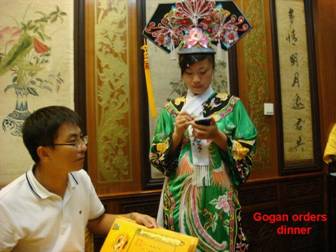 <![endif]>   <![if !vml]>
<![endif]>
It's now about 10PM, and we're all more than a little groggy from being awake pretty much for 28 hours. But Gogan has another surprise for us. He takes us to an elegant spa for foot and back massages.  The entrance, all stone and incense and candles and well-placed Buddhas.
<![if !vml]>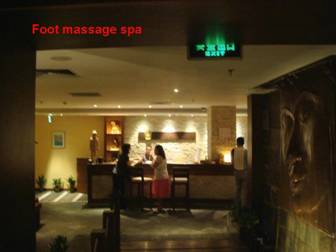 <![endif]>   <![if !vml]>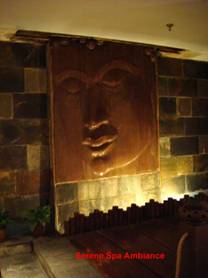 <![endif]>

All five of us are escorted to a quiet room with five recliner lounges and soft, tinkly Eastern music. We change into spa outfits, whereupon five young ladies enter and proceed to work us over for the next hour. I must say it was spectacular.

<![if !vml]>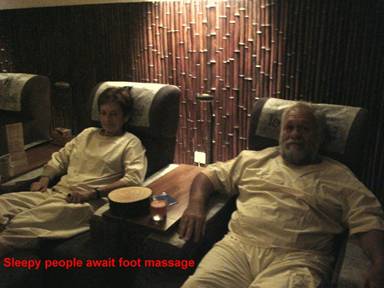 <![endif]>

Finally to bed after 32 hours. Quite a start for a communist country.

Gary
A Post Script from Lulu

After the endlessly delicate food and the serene body and footwork, it's clear why their civilization is 5,000 years old and ours isn't.

In any event, all this luxury came courtesy of a man named Tiger Lee, a former patient of our son Bobby, who is a radiation oncologist practicing in LA. Tiger, who has businesses in LA, obviously had a bout with cancer.

Extremely wealthy, extremely generous and extremely grateful, two years ago he invited Bobby, plus 2 of his other LA physicians on an all-expenses paid 2-week trip to China: one week a cruise down the Yangtze, the second week in Shanghai, which component included the Formula 1 race and various sightseeing events. In addition to the LA docs, there was a whole contingent of friends and business associates plus a huge support staff traveling with them.

The next year Bob was invited back for another F1 event and a third time for Tiger's annual Chinese New Year party in Taiwan. (With business class tickets in all cases and with an add-on touring component.

This year when he heard Bob's mother was coming to China, he included all four of us in his Shanghai F1 group. I have never met Tiger but before we left the US he had already smoothed our path here by sending us a Chinese cell phone...and a brand new Sony digital camera. I can only speculate (though hope never to find out) just how good a doc our Bobby is.