As we traveled up the Eastern Atlantic coast this spring I- though not, I'll admit, Gary-basked in the delusion that this summer we'd finally sail to Maine and possibly beyond, into Nova Scotia. Even Newfoundland seemed plausible in this ambitious fantasy.
But, once berthed in New Rochelle, this summer goes no differently than last: the tangible reality of grandchildren tugging at our heartstrings keep us lashed to the boat slip.
Increasingly, these always adorable, now ever more defined little persons have taken over our existence. Eight live cue balls colliding blithely into our plans. There's this trick they do that makes us forget we have whole other existence out there called Gypsies Afloat.
As for a summer voyage, the best we can manage is 12 days away on the boat, during which time we get no further than Sag Harbor to the southeast and Stonington to the northeast—by land reckoning each no more than a four-hour drive.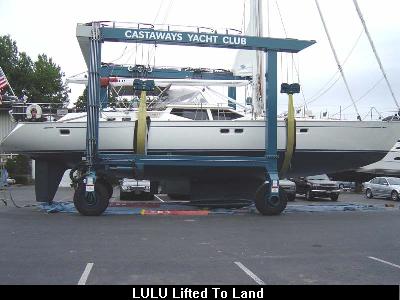 Immediately after Labor Day LULU is hauled out of the water. She stays propped up on stilts and blocks in the marina parking lot for weeks. We're in the midst of the Boatyard Blues: an atonal symphony with a series of movements (resembling nothing like movement) called "Painting the Boat Bottom," "Not Painting the Boat Bottom," "Considering Painting the Boat Bottom," "Uh, Oh, It's Raining!" and "Not Waxing Keen About Waxing."
Once started the painting takes on the dimension of eternity because the entire bottom must be scraped, sanded and 100% ridden of all the old tin-based paint—which is now illegal— in order to apply Micron 66—which is now legal but will probably be outlawed the next time we go to paint.
Since what has become our real home is now fixed on the hard, offering neither water nor refrigeration and just a tall, wobbly ladder as entry point, we move back to our apartment. Hard to believe that spacious and architecturally exciting as this loft space is, we prefer living aboard our compact and cozy sailboat, where you can reach just about anything in any area by merely stretching out an arm.
But, the relocation does give me the opportunity to spread out in a real kitchen and provision for our fall passage to the Virgin Islands. I make up a list of menu possibilities and then—characteristically avoiding the editing process—proceed to prepare them all.
For this a seven- to eight-day trip with four of us aboard (and with the crew, our buddies Jane and Chris, already bringing lasagna, turkey chili and spaghetti sauce), I cook braised short ribs, chicken cacciatore, a corned beef, a vat of chicken soup, a brisket and a lamb stew—each portion of stevedorian proportion. In multiplying recipe ingredients I've conflated a sailboat crew into a marine battalion.
The apartment is on the third floor of our former factory building, the rest of which we rent to MacMenamin's Grill, a gourmet restaurant and cooking school. (So when we say we're "having dinner home," the shorthand translates into we're walking downstairs to eat.)
Because some delivery truck full of produce or meat or linens or liquor is almost always blocking the basement entrance, it's virtually impossible to get into our two "garage" spaces to haul our own paraphernalia upstairs by elevator. It's a teeth-gnashing, TMJ experience for me every time. Gary, ever more imperturbable than I, calls it exercise.
That said, during this round of provisioning I do discover that living over a busy restaurant is not always all bad.
Like the day I find both on-hand bottles of white wine (circa 1999, when we sailed off) totally unusable. One has a suspiciously engorged cork, the other an old and crumbly one. This discovery comes during the crucial browning/sautéing/deglazing phase of my Tom Valenti Braised Short Ribs recipe. An incipient panic is quelled when I realize I can step right up to the bar one floor below and buy a well sealed 2004 Chardonnay. Not the cheapest solution but it saves the stew.
When the quantity of Most Deliciousest Belgian/Jewish Chicken Soup I judge minimal for four people overruns my stockpot, Gary pops down to the first-floor cooking school and selects a 20-gallon cauldron, the kind Julia Childs might have eviscerated Simone Beck for.
As I finish the cooking and begin the freezing, I watch the space in our apartment freezer evaporating. I negotiate space in the walk-in restaurant freezers—not even a rent concession is requested. I look more kindly at delivery trucks and pass the malodorous dumpster with somewhat more sangfroid.
Then comes my granola project.
Last season in the Bahamas I happened to be with our friend Tom as he raved about the homemade granola served up by his wife, Donna—who invariably brings prodigiously yummy hors d'oeuvres to sundowner parties. Such an offhand comment has, with some regularity, sent me into not always entirely rational hyperactivity.
Thus, despite the fact that Gary and I are unwaveringly committed—except in the presence of wine (me) and ice cream (Gary)— to the Atkins regime, I spend much of February and March combing markets, attempting to assemble ingredients not typically available in Caribbean islands—the kind of stuff that used to be prominent on the pantry shelves of my Great-Aunt Frances, the family's Carleton-Fredericks-health-food nut, a conspicuously tenacious proselytizer. Aunt Frances, I'm bound to confess, died around 95, albeit, I'm somewhat nastily tickled to say, the victim of a most unhealthy dose of Alzheimer's.
At any rate, the Grand Bahamian Granola Mission stalls around the Oat Bran.
But, back in the land of excess, where a Stop & Shop beckons from every corner, I convince myself the starving delivery crew will naturally crave granola for breakfast. I easily locate the Oat Bran and replace the other expired ingredients, which were likely expired at their point of purchase. After an outlay of some $30 for the required slew of grains, nuts, exotic seeds and cooking oils I don't generally stock, I begin rummaging around the kitchen for one of my ancient aluminum baking pans. When I finally remember donating them to various daughters' starter kitchens, it's not a problem requisitioning a professional restaurant roaster from our obliging tenant.
Unfortunately this culinary apparatus projects several inches out from our oven—sort of like an inconvenient erection. Not to worry…the cooks downstairs on the lunch shift slide the tray easily into their hearth-sized oven, thereby saving us from morning malnourishment at sea. I'm not exactly sure whether or not an infiltration from the nearby mesquite grill will enhance or compromise an otherwise ambrosial granola.
Despite all these culinary coups—so hard to replicate in a boat galley—I'm longing to get back to my Force 10 propane stove. We're hoping to have LULU back in the water in mere days. After. we'll need a week to raid a series of Stop & Shops, crash the local Costco, hit Stew Leonard's for steaks, then pack the freezer and stash the twelve cases of wine we've assembled—this despite the fact that the most we've been able to cram into LULU's hold is ten.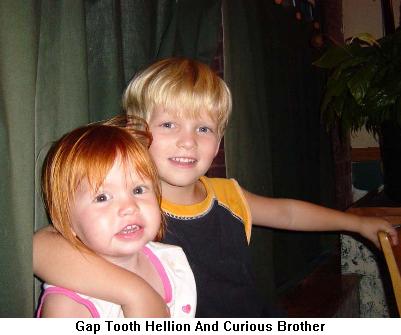 Then, assuming we can tear ourselves away from 2-year-old Casey, the Red-Haired Hellion with the beatific gap-tooth grin, and her 5-year-old brother, Ryan, with his never-ending supply of questions about how things work and when can he have a sleepover on the boat, our plan is to get whatever Chesapeake cruising time we can. We're counting on grandchild fixes from our Philadelphia and Baltimore kid contingents.
Finally, it's on to Hampton, Virginia, where, repeating a history of six years ago, we'll join the Caribbean 1500. This rally of 40 to 50 boats, featuring lots of land parties and regular communication at sea, will depart for Tortola on November 7. Maybe. Weather permitting has taken on new meaning of late.
It's most sobering to consider an Atlantic voyage in the midst of lamenting the horrific damage and human misery wrought by the abominable hurricanes that have afflicted our Gulf Coast recently—one, Rita, still raging rampaging at the very moment I write this.