Paradise is so…yesterday
Some of you know this, some don't but it will bring you up all up to date on the Lulus' most recent doings.

For a brief, crazy month around August we decided to sail LULU to the Mediterranean. A confluence of circumstances—mostly about old dreams and meeting Bill Drane on CABARET, who is a most enthusiastic and persuasive guy. Bill was touting the Azores—seven stunning Portuguese islands in the middle of the Atlantic, which you can only "do" properly by taking your own boat and sailing around between them. His descriptions were so enticing he had us drooling. And he didn't even mention food.

He wasn't alone: the Azores get universally high marks, as do the Balearics, most of Spain and parts of Portugal. Plus we loved the novel corollary—living aboard in the center of Barcelona for a relatively temperate winter.

After Barcelona, there's France, Italy, Sardinia and Corsica. And everyone wants to cruise Croatia these days.

Basically, after seven years, I seemed to be suffering from a touch of Caribbean-itis. And my recurrent penchant for some kind of change was kicking up. Gary, as he does so well, was humoring me. Often enough when he takes this role, I'm ultimately satisfied to drop whatever cause I've been flying the flag for.

Except for checks, the paperwork and actually buying charts, we committed, told everyone we were doing it including the kids (who believed us not at all). We found fun, skilled people to crew for the entire 3,300-mile voyage.

Then we read some online cruiser logs. Suddenly Europe began looking like too many long slogs through quixotic, manic-depressive meltemi winds. When you arrive wherever you're going, with luck you get to tie up against a 50-foot wall with big black rubber tires conspiring to transfer blobs of their stickiness and their blackness onto your white hull. Worse— the boat quite literally climbs the walls during the significant surges caused by too-regularly-scheduled passing ferries. Ferries make the hull-color transfer A) a certainty and B) cover an even bigger vertical area. Too often, disco music blasts till almost sunrise, even in tiny Greek, Italian and French vacation Meccas.

How long you stay anywhere seemed governed by whether the wind allows you (it usually doesn't) to keep to the almost-military schedule required to get someplace else, always very far away, and usually an entire country, before the winds "really kick up!"

Or, the no-stone-wall scenario: you get to stay in a marina. Frequently the marina has no space for a piddly 61-foot boat or the harbor is so small a monstrous 61-foot boat can't get into it.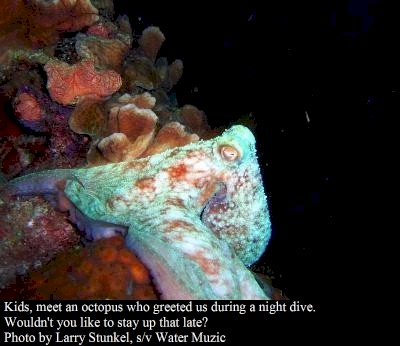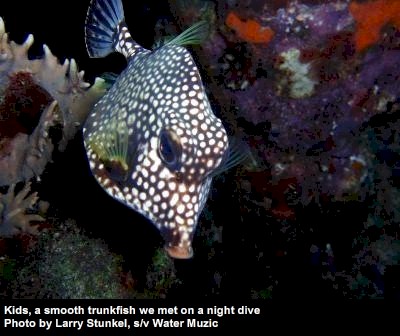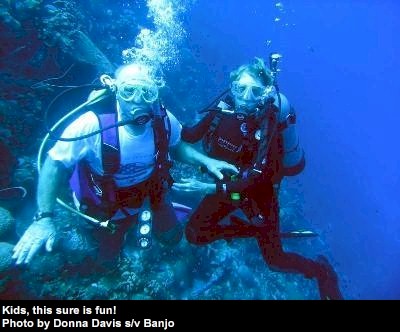 We couldn't help noting how spoiled we are by the ease (if not moment-to-moment thrills) the Caribbean offers. Meanwhile, this getting-older stage of life has made us somewhat more cantankerous about discomfort in general.
We noticed we've already visited many, many of the European harbors—the French and Italian coasts, Sicily, even some popular Turkish cruising grounds. But, on the other hand, there was all that European land travel: Berlin, Prague, Ireland, Scotland, Russia, where we haven't been. But who would choose those destinations in dead, dreary, cold winter? We'd have no time for them in summer—we'd be cruising the Med then. Essentially then we were consigning ourselves to a winter/summer pattern again.
Despite the schedule—kids and guests visiting every month from January through April—we would need to leave Antigua on May 13—provisioned for three months of sea travel and ready for passages from Antigua to Bermuda to the Azores to Spain. For those three months there would be a changing guard of people coming to crew and sightsee before and after each leg, everyone living aboard with us. A sea change, literally, from our tight little twosome, from spending most of our (interior) onboard life in our underpants. (A lifestyle that's very easy on the laundress.)
We seesawed all month, both of us anxious almost 100 percent of the time. Making our original decision to retire on a sailboat (even though we didn't know how to sail) was far easier, far more joyous.
The unmentioned 800-pound gorilla: Europe is so physically and emotionally distant from our eight grandchildren, who come to the Caribbean almost every spring. Frolicking on beaches, not touring churches, palaces, museums and antiquities, are more their idea of fun for the foreseeable future. Plus, for years I've been complicit in boosting a Caribbean agenda: emailing dive descriptions and fish pictures, enticing them into the scuba frame of mind when they turn 10 and 11.
In our hearts we knew that after the first Thanksgiving hugs, the Med would be toast.
And so it was. Gary has labeled this whole episode my "Paradise is so…Yesterday" period.
Bye-bye Bonaire
We've resumed sleeping nights again. After Thanksgiving we returned to our much-beloved Bonaire, which is where we spent this June through November: Diving. Reading. Hanging. Socializing. Pot-Lucking. Domino-ing. Doing the Cruiser Life, this season with a bunch of fun, interesting people, couples and families of every age and many nationalities, all enlivened by an ever-changing parade of new boats passing through for a week or two. Plus, weekly out-to-lunches with my "land ladies," Elizabeth and Laura.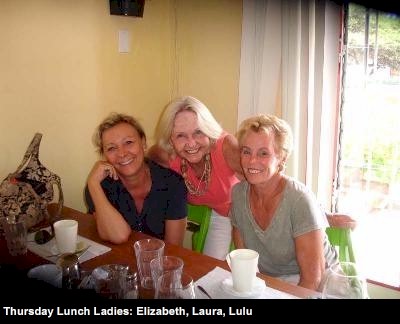 December marks the end of hurricane season: Time for us all to head our (mostly) separate ways. Leaving this friendly island is always hard and this year was maybe a little harder. Our decision to stay in the Caribbean puts us heading north yet again—to the Virgins, Leewards and Windwards—where all too frequently the locals' attitude is as thick as a Carnegie Deli corned-beef sandwich.
But, speaking again of food, this particular cruising itinerary works for us because I did, finally, get a regular writing gig. Starting in March 2007, Blue Water Sailing Magazine will publish the kind of Caribbean restaurant rambles I love to do. I'll have a byline, or department, called Sailing On Your Stomach: In the wake of an insatiable food sleuth.
These eastern islands are where it's at dive-wise—eating dives, that is. And I need to dive immediately to this, my favorite kind of research. Fortunately I have a skilled assistant! Gary has even given up French fries, trying to get in better shape for the marathon.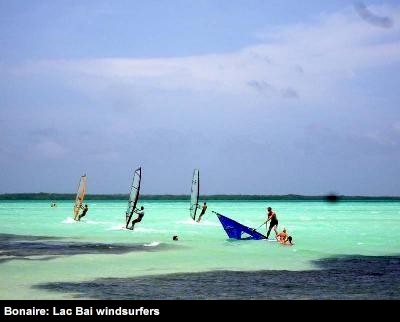 We have, however, not given up the idea of traveling to exotic places, but without LULU. We plan on leaving her more often and for longer periods of time in safe, clean Caribbean marinas. We're thinking of China, Vietnam, Africa. And we can even visit Berlin, Prague, Ireland, Scotland, Russia—in good weather.
We left Bonaire December 6, bound direct for St Croix. But crotchety northern winds dictated a different location. We detoured to wait for a better weather window. We spent a quiet, beauty-drenched week in Venezuela's exquisite, for-the-most-part uninhabited archipelago, Los Roques. There I promptly found a restaurant to write about.
It IS a particular talent of mine...but you'll have to actually buy the, say, next December's issue of Blue Water Sailing to read about that.
Meanwhile, we hope right now you are all somewhere you are happy to be. We wish you all a wonderful rest of December, and for 2007 in its entirety, that ever-more important life asset—health.