A LULU OF A YEAR––WITH A DOOZY OF A FINISH!
Tunisia, Malta, Italy's boot and a small chunk of calf. A big swath of Croatia. A Rome jaunt and Dalmation sail with grandchildren Ronnie and Sam. Montenegro's fjords. And a magic month in Venice––tooling around the canals in our own dinghy, pissing off some but amusing many gondoliers.   
A dramatic, fantastic summer––all too glorious to make myself sit down and describe it. One of these days…
Meanwhile, I've already missed the New Year's deadline. Belatedly, we wish everyone a happy, healthy, prosperous, jubilant, fulfilling 2013.
After this long hiatus, here is some news from us.
LULU is spending another winter in Marina di Ragusa, Sicily. We Lulus flew back to the US in late October and six weeks later moved into New York City, across from Lincoln Center and around the corner from Central Park.
Fifth Avenue is just five long city blocks away, if that's your cup-of-tea––though it's not mine. Movies: wide-release and blockbuster––three blocks north. Film: foreign and arty: downstairs. Subways and buses radiate everywhere just two blocks away. Our eight grandchildren within driving distance.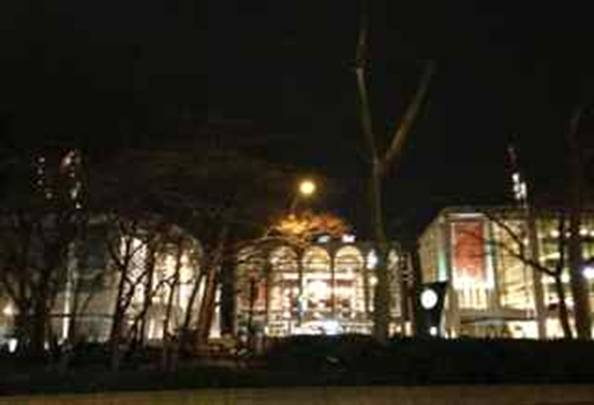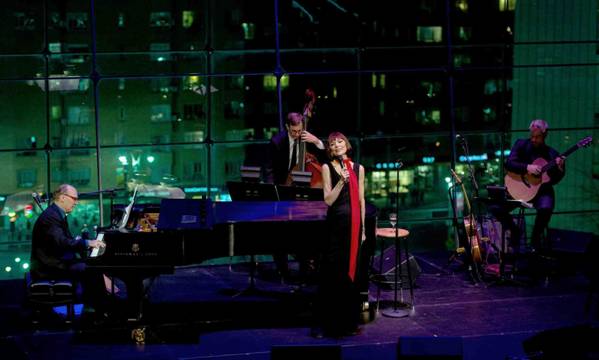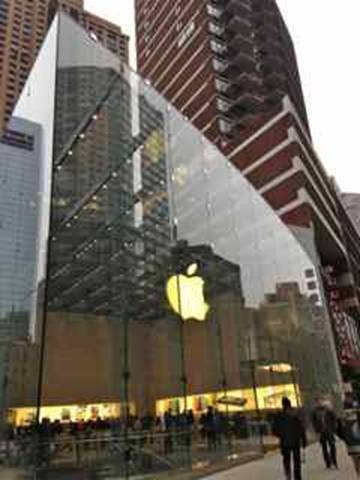 And the Apple Store? Four blocks up Broadway.
Bliss.
We had a hard time finding something––there's never much inventory of furnished apartments for a five-month rental, especially in November when all the snow-birders have already made their flying plans. But this year the rental market virtually dried up. Something to do with interest rates or tight money or skyrocketing real estate or plummeting faith in the country or fiscal cliffs or Bloomberg or Obama or Congress or, or, or...
Almost nothing available. We couldn't get last year's place. We were ready to take something that we hated…at twice what we wanted to pay, when suddenly up came something fabulous, twice as big and three times as expensive...
So we did as we usually do––fell all over ourselves saying yes. Telling ourselves, If not now, when? And if not us, who? (Well, there's the little matter of the grandkids' college...but that's a long time off, isn't it?)
What fun. Suddenly, from some 500 square feet of LULU space––salon, cockpit, galley, cabin––we're in 1800 feet of Manhattan apartment with two bedrooms, two baths, a monster open kitchen (which sadly, or happily depending on whose point of view) will rarely be used. We've got a gorgeous view of what I thought was an ersatz Moorish church, but turns out to be a landmark 1896 YMCA.  
We've even got a pretty decent-size glimpse of Central Park...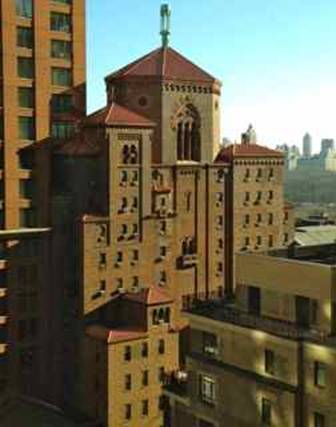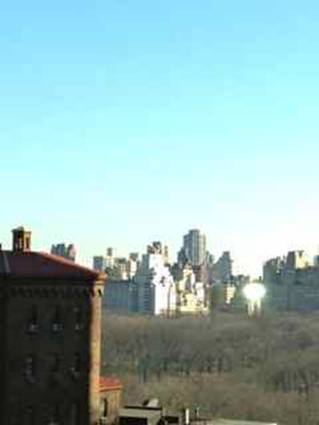 And no New Rochelle disco downstairs!
Though the place was billed as furnished, as soon as the previous tenants took out their two giant televisions we found not much there but three barstools, an L-shaped sofa, a pullout couch in the second bedroom and a king-size bed.
Thus, we raped and pillaged our New Rochelle apartment of all its African masks, assorted posters, sculptures, pillows, trays and serving pieces, dragging all this down in 20-some-odd cartons and making our spend-the-kids'-inheritance furnished digs homey.
We also un-rented the king-size bed and had it replaced with a queen.
In further forays to Bed Bath & Beyond we finished furnishing the "furnished" apartment––dish-racks, toilet brushes, waste baskets, mirrors, hooks, drawer dividers, new sleep-able pillows and queen-size sheets––plus wine corkers and openers, those most glaringly missing accoutrements of all.
The largest square foot challenge: we needed to fill those gaping electronic holes left by the previous tenants. We called it decorating in TVs. But here we couldn't just schlep down our New Rochelle TV––this antique dated back to 1983 when we chose to spend a New Year's Eve at home. It receives its feeble signal (when it does) via roof antenna and rabbit ears. Since we don't watch TV this hardly mattered.
But now we can. And those blank walls are now tastefully filled with two post-modern black rectangles that spring to life with a riot of HD color and babbling anchor-persons spouting drivel. Reminding us we could also be at anchor reading.
We've also got cable boxes and Apple TV, the possibility of Netflix and something called HULA that's not a hoop, plus LED or LCD (whichever one is better) and a mysterious acronym called FIOS.
Our cruising buddies the Feisties and the Splendidos came over to christen the place, followed by assorted old New York friends.
We're filling this precious time with theater, lectures, a film series, an NYU World Politics course––even a day learning proper knife skills (there'll be a slew of slaws at potlucks) and are enrolled in a spring philosophy seminar.
This Lincoln Square area lacks only one thing: ethnic, edgy or otherwise wanna-be-there restaurants...they're all varying degrees of dull, stuffy, upscale, nouveau (or old-money) but in any event require being riche.
Did I say bliss?
Sure looked like our lives were full-up.
And then I had a Christmas miracle. Though strictly speaking I doubt I'm entitled. History doesn't indicate the so-called chosen people were chosen for miracles. But since Hanukkah had its miracles too and this one was multi-denominational, call it an ecumenical miracle.
And also an electronic one––it began with an email last March.
Hello, I'm Karen, I'm your 48-year-old niece. You probably don't know about me.
That's for sure. I don't have any nieces.
I know this must come as a shock. I'm the daughter of your brother.
My brother. Dead now 41 years. Never mentioned it. Though, it's true we never talked much. Talking to him usually meant trouble. My first thought, probably anyone's first thought––this must be some twist on the old Nigerian inheritance scam.
Born, she claimed, in a Maryland home for unwed mothers, given up for adoption at birth by her 17-year-old mother. Brought up by good loving people, who asked she not investigate her birth parents. Only after their death had she found the adoption papers. A Maryland agency led her to her birth mother…who said my brother was her father. She'd never told anyone his name, could offer only his yearbook picture.
Would I talk to this Karen? So she could find out where she came from, learn who her father was, so she could share her heredity with her own three children. My brother was impossible to find beyond that high school yearbook. (Of course I knew why.) But the Internet and some earnest digging led her to me…and my blog.
I felt shock, yes, and curiosity, certainly.
Dear Karen:
Your letter was an enormous surprise. If you are indeed my brother's daughter I believe you are entitled to know more about him. However, I need to know more about you than you have told me. And that you are authentically who you say you are, coming out of the blue as you have.
I am not normally a suspicious person, but...Please tell me how you accumulated the information you do have––how you found this birth mother, him and me. Then I will some kind of framework to consider all this…
Louise
Of course we had the Internet at our disposal too. Which told us she was president of her own multi-employee travel business and wasn't likely to be some litigious gold digger.
Dear Louise,
[First, thrill that I had answered. Then, from the adoption agency's notes:]
Your birth father was 19 or 20 at the time. He was 6 feet 2 inches tall, of slender, muscular build, with auburn hair, and greenish eyes. He is described in the notes as a nice, white Jewish boy who does not follow that religion. His parents were living and he had one older sister who was married. His father was an attorney.
[I knew my parents could never have known—or my father would have been involved. He was just that way. And that my brother would have cut and run if he could without telling them. Her birth mother Georgia's story––heart-wrenching: at 16, rejected by her parents, ignored by her boyfriend, put on a bus to Baltimore to have a baby. Alone.
Overwhelming. I never knew any Georgia, but then I was off in college, really never knew my brother's friends.]
As an adopted child you grow up having NO clue who you look like or where you come from.
[Born 4 months before my middle son John, Karen sent me pictures of herself at 18. Did she resemble my brother around the chin? Sort of.]
More than anything I want this heredity and family history for my children—they have never known what their mother contributes to them—I now know I am German and English on my mother's side and would love to know what part of me is from my father's side.
[She lives in Chicago, is happily married, loving husband named Jim—who encouraged this quest and did the research that led her here. Has three terrific sons, the last the biggest mystery of all: why a redhead?] Until I saw the yearbook picture of your brother Pete…my father, with his red hair.
[She emailed me a picture of that boy…he could have been my brother at age 10. Who wouldn't be curious?
But, she wrote, I've read your blog. I know your brother died violently…and I am not trying to bring up painful memories. I know it must be disturbing to find out that your brother had a child, but maybe knowing your brother has left a daughter and family behind will provide you with some joy and comfort somehow.
And please know I respect your privacy completely. If I do not hear back from you, I will respect that privacy and will not contact you again.
Who wouldn't be tearful at this point? And who wouldn't speak to her? Who wouldn't want to meet this seemingly whole, sensitive, high-functioning, and yes, I was certain, ethical human being. Who was probably my niece!
Looks like you have a new cousin, I told my kids. Ecstasy! Soon they were sending "Welcome to the family" emails.
Karen was, at that time, on her way to Florida, to finally meet her birth mother. She sent pictures from the airport. How much alike they looked. Georgia had never married and had searched fruitlessly for Karen. Imagine what happiness and elation they felt.
Karen, I wrote, before our first phone call, I am not going to bring you that kind of joy.
I know, she wrote back, your blog already tells me that. I promise I'm not looking for a happy ending but just the truth about him, the details of his death.
She'd grown up loved but always feeling some sense of being separate.
Soon thereafter we spoke by phone. There wasn't a way to sugar coat what I had to say…..What you should know is that you were really truly lucky, to have been adopted by loving, caring people who wanted you, who brought you up well, gave you a good home, and obviously solid values. My brother would never have been capable of that.
Who knows what made him grow so wrong, go so astray…a child rejected by a mother too unstable and volatile to handle a rambunctious little boy. A worried father, harried, overworked, always trying to fix it, bailing him out of childish scrapes, then more serious problems.
You never found his name in Internet searches because he changed it when he began modeling and acting. Or maybe for other reasons––was he stealing? Was it drugs––was he buying? Was he selling? Had he borrowed a lot of money he couldn't pay back? We would never know. Because at 28 he was stabbed in his apartment in New York. They never found his killer.
But, trust me, he would not have been a nurturing father.
What I can also tell you is that my father, your grandfather, didn't know about you. Because if he had, he would have loved you and supported the best in you and have been a big part of your life…As he was with his other grandchildren—my children. Sadly, he too died early. When they were 7, 6 and 2. So he too wouldn't have been around to protect you either.
But as for the present, you have three wonderful blood- (and two step-cousins) out there. And an aunt who will definitely care about you.
How terrible to be telling her all this and what could she be feeling hearing it? Here's what she was feeling:
It's so amazing for me to know anything about the two people who created me!
Clearly we two had bonded. After, a flurry of emails: between Karen and me, between Karen and all my kids. Even between me and Georgia. Photos flew back and forth. My son John created a family flow chart to show her which second cousins belonged to which first cousins.
From my daughter Susan: All these words that always seemed to have such a clear definition in my mind––like family, marriage, motherhood––are really very fluid and are turning out to be quite different than how I've defined them for most of my life––and this really proves it! It is so wonderful to have an ever-growing family and more people to love!
We were anxious to meet but it was time to return to Italy and LULU.
But now, almost a year later, we were back and in mid-December Karen emailed. She and Jim and Jake the redhead were coming after Christmas. Would we be around? Would we ever! Would she come for lunch? Would she ever!
Our meeting was a huge success. Karen walked in the door and fit in like she'd never not been in. For one, she's one of those light-bulb people. She's warm and open, beautiful, smart and lively. We already suspected that. But add to that, she's even into food. A most important quality in this family.
Not only does her personality fit in––she and my daughter Susan look shockingly alike––they have the same profile and from the nose down the same mouth and chin. We had been prepared for Jake, but not for this resemblance. This likeness comes from my mother, their grandmother. Again and again that jolt: my brother's child…my brother's child...
Her husband Jim is a lovely guy, enthusiastic and fun, and Jake, that 12-year-old son who had been such a red-headed mystery does indeed remind me of my brother––physically anyway––and is a gosod kid and really excited about this family union.
The high carried through the weekend. We lunched at our apartment with prosecco toasts, shared family stories, passed around old photos. Then we walked to Central Park, Jake in his hoodie, all of us freezing our way down to the Rockefeller Center tree. Back up Fifth Avenue, we hoped to show Jake FAO Schwartz, or at the very least the Apple Store, but were utterly defeated by tourist lines. We tucked into the new Food Court downstairs at the Plaza but got not a single sighting of Eloise.
Next day we met for a dim sum lunch in Chinatown and Jake brought a cousin––a part of the family obviously not related to me, as not a single interesting dumpling passed into or dropped from their chopsticks. I will have to work on that!
Too bad, Susan's children were away skiing with their father and John and his were off in Los Angeles. We all hope for a re-run before our spring return to Sicily.
Karen and I parted a combination of goofily giddy and profoundly moved. She's an easy one to be giddy about. Beautiful face, sunny personality, sweet nature.
Me, profoundly moved that my brother's life wasn't one 28-year-long tragedy: suddenly it had meaning––something truly fine came out of it. Not merely someone new to love, but singularly something to love of and from my brother, where so little love existed and so much guilt remained. In return we offer Karen the birth family and history she searched so long for.
For my parents––and particularly my father––and would that they could know all this: she gives meaning and worth to their sorrows, struggles and sacrifices.
She is truly a gift. A holiday miracle. Even her name is perfect. Did I mention it?
Karen Devine.
We wish all of you one of your own in 2013…
Lulu & Gary